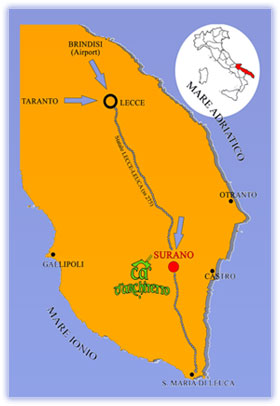 HOW TO REACH THE B&B:

By Car: The highways from North, from Central and Napoli lead to Lecce to Bari by the A14 north and then thanks to the highway to four lanes Bari-Brindisi-Lecce, Lecce can be reached from the south from Taranto and Brindisi. You can reach to Surat from Lecce thanks to a four-lane highway 16 and continue to Maglie, through highway 275 in the direction of Leuca, turning at the intersection to Surano, from which we reach our B & B in a few kilometers.
By train: You reach the station of Lecce with the State Railways and then go to the station of Poggiardo or Spongano thanks to the connection of the South-East Railways. Surano is connected to Castro, Santa Cesarea by bus.
By plane: The closest airport is Brindisi airport, from where you can go to Lecce with bus shuttles.